Visit
The Parola Armour Museum is located at
Hattulantie 334, 13720 PAROLA
Bus number 5 runs right next to the main gate of the museum, you can find the, timetables and routes here.
From Parola train station, it is about 1 km to us in the direction of Parolanummi. The easiest way to get from Hämeenlinna train station is by bus number 5, which leaves directly from the station.
It is about 110 km from Helsinki and about 70 km from Tampere.
You can get more detailed guidance if needed
By e-mail: toimisto@panssarimuseo.fi
or phone: +358 40 568 1186.
news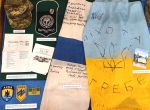 The exhibition "Fighting Ukraine – Russia's mistake?" revolves around of the war in Ukraine and takes a stand on the events of the modern war with electronic images and texts as well as authentic objects brought from the battlefield. This quite illustrative exhibition has opened March 1.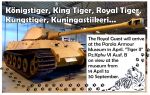 Königstiger, King Tiger, Royal Tiger, Kungstiger or Kuningastiikeri, the dear child has many names and in some languages more. Official called Panzerkamfwagen VI Ausf. B "Tiger II" On view at museum from 14 April to 30 september.
Built at the Henschel factory in Kassel in January 1944, it was the second of 492 King Tiger's off the production line - hence its designation as "V2" (The V short for Versuchs, German for 'experimental').
This Tiger II was the second prototype of three built by Henschel, with the Chassis Number V2 (Versuchs-Fahrgestell No. V2 (Trial Chassis V2)), and completed in January 1944. It was not issued to a combat unit, remaining with Henschel were it was used for various trials. It was later captured by the British at the Henschel testing area in Haustenbeck, Germany at the end of the War. It is still fitted with a modified exhaust pipe that Henschel were using to test exhaust pressure.
V2 is unlikely to have ever seen active service. Instead, it was earmarked for military trials and sent to a testing facility. As a result, it had neither the anti-magnetic Zimmerit paste or a camouflage paint scheme applied. The facility was captured by the Allies in April 1945 and V2, then in full working order and fully stowed, became the property of the British Army.
Following a range of trials, the tank was sent to The Tank Museum for display in 1952 – where it was painted in an erroneous camouflage scheme and incorrectly became known as the "Porsche Turret King Tiger".
The Tiger II was probably the most powerful tank of the war and certainly the most expensive.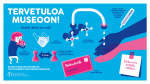 Only visit us if you are healthy
Take care of proper hand- and coughing hygiene. We have several hand desinfection locations.
Avoid paying with cash, cards preferred
opening hours
Museum
01 May - 30 Sep every day 10 am to 6 pm
Midsummer's Eve closed
01 Oct - 23 Oct every day 10 am to 3 pm
Christmas week closed
Café tankkitupa
01 May - 30 Sep every day 10 am to 6 pm
Midsummer's Eve closed
01 Oct - 23 Oct every day 10 am to 3 pm
24.10. - 30.04. SAT-SUN 10 am to 3 pm
Christmas week closed